Hampton Gardens - LOCATION
Hampton Gardens is located at Dr. Sixto Antonio Ave., C. Raymundo Ave, Pasig, 1607 Metro Manila.
The Hampton Gardens by Clairmont Realty is located in C. Raymundo Avenue, Maybunga, Pasig City in Metro Manila. Hence, the location is one of the primary selling points for this property. It is also a certified flood-free area and the barangay has a certification to prove it. Two of the strongest typhoons to hit the country recently, Ondoy and Habagat, did not affect this area despite the fact that there were several parts of Pasig City that was submerged by the devastating floods. In addition to that, this property has a dedicated property manager that will be able 24/7 to address the needs of its residents in case of emergencies.
 Aside from the flood-free location, the proximity to commercial establishments and businesses also make living in Hampton Gardens ideal. Whether you need to be productive or indulge in some enjoyment, all you need is within a few minutes away. It is therefore the epitome of a well-balanced urban lifestyle as everything is within your fingertips.
 Hampton Gardens is located to major business and commercial establishments such as Toyota Pasig, LG Electronics Philippines, and ADM International Manpower Services. Hence, those who work in these companies will be able to easily access it from Hampton Gardens. In addition to that, there are several religious structures within the area such as San Antonio Abad Parish and Seventh-Day Adventist Church.
 If you need to do the grocery, you can find several shopping centers and malls in the area. For your shopping needs, simply go to SM Supercenter Pasig, SM Megamall, Tiendesitas, and Puregold. If you are in search of the best places to indulge your cravings, you have many options near Hampton Gardens. Starbucks Coffee is nearby for the instant caffeine fix. Meanwhile, there are several other options to satisfy your culinary cravings, whether you are looking for gourmet or fast food, such as Max's Restaurant, Hap Chan, Brick Burger, and Comida China de Manila.
 For families that decide to move into Hampton Gardens, you can also find a few notable schools in the area. Some of these schools are located less than 1 kilometer from the condominium building: Maybunga Elementary School, Sacred Heart Academy Pasig, and Rosario Elementary School. And for your health concerns, you won't have to travel out of Pasig in order to get the best medical and health care services. You can get quality medical and health care at Joson Medical Clinic, St. Therese Doctors Hospital, and TriCity Medical Center. For your other recreational needs, you can also go to the nearby Ynares Sports Arena and PhilSports Complex. Both of these are popular venues for concerts, sports activities and other social activities.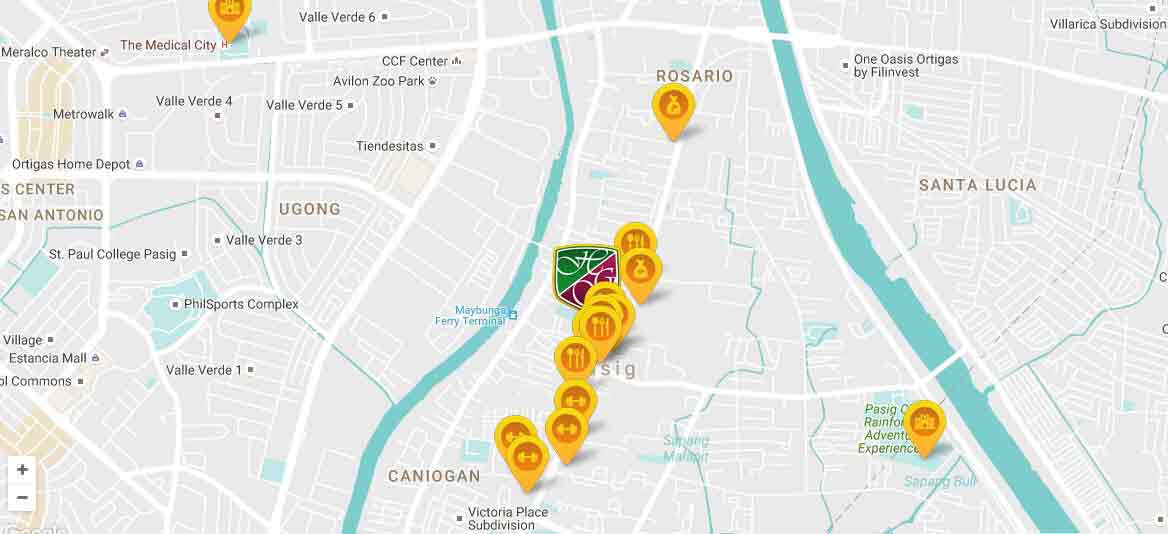 Hampton Gardens in Pasig City is therefore right at the heart of the business, economic and entertainment center in the city. Therefore, the developer tried to maximize the recreational opportunities that are available within the area. While you won't feel the need to go out with the long list of amenities available within this property, the location makes it convenient if you need to.